Carriages, Buggies, and Carts
Links below open new windows

= Member Listing
. . Businesses who make and sell carriages, buggies, and carts for Miniature Horses.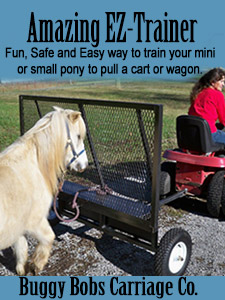 Buggy Bobs Carriage Company
e-mail -
Buggy Bob -
buggybobs1950@gmail.com
Shelbyville, Tennessee - phone: 931-294-2808
We are a small Family Owned and Operated Horse Drawn Buggy Shop in Shelbyville TN. We build all types of Buggies, Carriages, and Carts. We are now specializing in Miniature Horse and Pony sizes as seen on our website. We also want to advertise a new concept of training with our new "Amazing EZ-Trainer" the Fun, Safe and Easy way to train your miniature horse or small pony to pull a cart or wagon. This training apparatus teaches minis and small ponies to pull a cart by simply attaching it to a small riding lawnmower and pulling it around to train them as seen on TV and the Internet. Web site - http://www.buggybobs.com/
01/16
---

= Many thanks to these MEMBERS of Lil Beginnings Miniature Horses web-site!
For information on being added to the Small Horse Connect - PLEASE SEE THIS PAGE
Get me back to Lil Beginnings Miniature Horses main page please!