~ Michigan ~
Links below open new windows

= Offers Stud Service
= Member Listing
---
Miniature Horse and Shetland Pony farms and related businesses in Michigan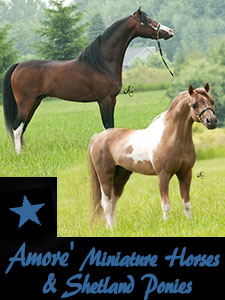 Amore' Miniature Horses & Shetland Ponies AMHR / ASPC/ AMHA/ PtHA
e-mail - Janice & Dominick Silvio - amoremini@yahoo.com
Allenton, Michigan 48002 Phone: 586-337-1501

Amore' Miniature Horse & Shetland Ponies a long time supporter of AMHR ASPC & AMHA, Janice Silvio is a Senior Judge for ASPC AMHR ASPR & AMHA, Amore' is home to D&S Peeping Tom 36 Time National Champion & Sire to World Champion & National Champions.*** Stands to limited select mares*** Also home to Willowlawn Wildfire Multi Grand Champion and Sire to Multi National & Congress Champions. We have foals offered For Sale each spring and take Pride & Care in our managed equine program and the offspring we offer for your consideration. Feel Free to contact us for more information we love to talk horse.
web site - http://www.amoreminiatures.com
10/16
---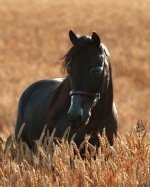 Pine Ridge Farm AMHA /AMHR / PtHA
e-mail - Martha Gale - martha@prfminiatures.com
7300 Sheridan Rd, Millington, MI 48746 Phone: 810-252-3016

World/National Halter and Driving Champions. Committed to quality and continuous improvement of the breed. We combine several of the industries top bloodlines and our pedigrees include many of the proven and consistently top producing miniature stallions: Double Destiny, Buckeroo, Rowdy, Uno, Monarch, AToy4U C, Red Boy, Night Hawk, and more. Discounts to show homes. Call me anytime, we love to talk minis. web site - http://prfminiatures.com/
10/11
---
....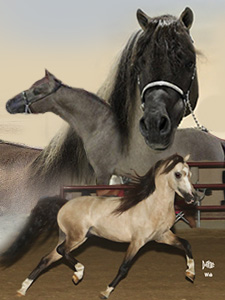 Wayward Winds Miniature Horses - ASPC / AMHA / AMHR / IBHA
e-mail - Lori Wilson - loriw8000@tds.net / Johanna Wilson - johamwil77@att.net
Battle Creek, MI phone: 269-303-1552 or 269-967-5340

Wayward Winds Miniatures is a family farm in southwest Michigan committed to selectively breeding, raising, and selling quality miniature horses offered at reasonable prices. We specialize in performance and driving horses, breeding for the best conformation possible. Wayward Winds is proud of our three stallions:
Dusty Lanes Vegas Bet A Buck, 2002 AMHA/AMHR/IBHA, PQ'd, 32" grulla, homozygous dun (DD, Ee, aa), only breeding son of Hilltops Little Vegas, first mini to be awarded a ROM in Dun Factor from IBHA;
Silver Birchs DLBs Trouble Gunsmoke, 2008 ASPC/AMHR/IBHA, 37.5" buckskin, homozygous black (EE, Aa, LWO negative);
OP Perfectly Dun In Gold, 2011 ASPC/AMHR/IBHA, 36" grulla (Ee, Dd, nCR). See our website for more information. web site - www.waywardwindsminiatures.com
---

= Many thanks to these MEMBERS of Lil Beginnings Miniature Horses web-site!
For information on being added to the Small Horse Connect - PLEASE SEE THIS PAGE
---
Get me back to Lil Beginnings Miniature Horses main page please!