Pennsylvania Miniature Horse and Pony Farms
Links below open new windows

= Offers Stud Service
= Member Listing
---
>>> CLICK HERE to Page 2 of PENNSYLVANIA Mini Horse and Pony Farm Listings <<<
---

Carmelites' Mini Corral
- AMHA/AMHR
e-mail - Sister Maria, cminic@ptd.net or marija@ptd.net
Sugarloaf, PA 18249 phone: 570-788-1205
Carmelites' Mini Corral is situated in Northeast Pennsylvania and belongs to the Carmelite Nuns of Holy Annunciation Monastery, Sugarloaf. Our initial admiration of Appaloosas became an ardent affection and now we are intent on breeding quality appaloosas in miniature. All of our horses are AMHA/AMHR registered. Our lines include Chianti, Southern Charm Spot Me A Buck, Toyland Little Sombrero, Toyland Zodiac, Trio�s Night Ryder(first legendary sire of Australia), Yellow Diamond Little Feather, and Orion Light Vant Huttenest. Web site - www.carmelitesminicorral.com
02/07
---
..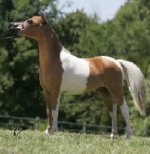 Coolest Miniatures - AMHA/AMHR

e-mail - Linda F Palmer - winlin52@comcast.net and Carla C DuRand - cydfarm@comcast.net

Gettysburg, PA (717)337-9387




Coolest Miniatures is located in historic Gettysburg and is the home of World Top 3 Stallion, Ravenwood Spotacular Allusion. We strive to breed show quality foals of the exotic arabian type exemplified of our stallion. We have hand picked several mares that are daughters and granddaughters of Sids Rebel, FWF Little Wardance, Bond Dynamo, Orion Light Vant Huttenest, Little Kings White Russian and Dels Cowboy to name a few. We only breed 4-6 mares a year to be able to socialize the foals. Stud service available to a few select mares. If you are looking for your next show horse or best friend check out our selection of miniatures available for sale on our website - http://www.coloryourdreamfarm.com/minis.htm

10/08
---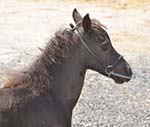 Full Circle Miniatures - AMHA/AMHR/Falabella/World Class

e-mail - Pete & Sally Stees

1075 Brough Road Abbottstown, PA 17301 - phone: 714-619-7366

We are Pete and Sally Stees. We used to have a dairy farm and previously Sally fox hunted and trained hunters. After buying some mini's we renamed our farm Full Circle Miniatures. Our first mini was supposed to be for our granddaughter but instead was the start of our addiction and second childhood. Pete had to build a barn with a playroom and wash stall. We love going to shows and meeting people. One thing about mini's is you never stop learning. You are invited to come to our farm and or website to learn more about us and our mini's. http://www.fullcircleminiatures.com
10/14
---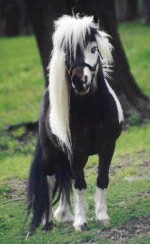 Hidden Timber Ranch - AMHA/AMHR/PtHA

e-mail - Melanie A. Peterson

Latrobe, PA - phone: 724-532-3216

We are a small breeding farm located in the foothills of the Laurel mountains, in southwestern PA. Our goal is to produce correct, colorful foals with gentle and friendly dispositions. Our horses are handled daily, and do equally well in the show ring or as pets and companions. We strive to keep the prices of our foals at a level that is affordable to all. Please check us out at: www.angelfire.com/pa5/hiddentimber
07/02
---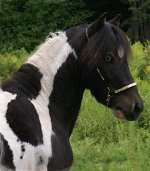 Indian Run Farms - AMHA/AMHR

e-mail - Druanne R. Burns - IndianRunFarms@aol.com

35 Blue School Road, Danville, PA 17821 Phone: 570-275-2058

Here at Indian Run Farms, it is our goal is to produce Miniature Horses with the desired qualities of conformation, size and color. For this reason, we have selected well-bred, quality mares with proven top bloodlines, featuring Blue Boy, Egyptian King and Rowdy just to name a few. Shown here is our new stallion, AMHA/AMHR reg'd Rivendells Raisin The Bar. Please contact our web site to learn more about us. - www.indianrunfarms.com
---
>>> CLICK HERE to Page 2 of PENNSYLVANIA Listings <<<
---

= Many thanks to these MEMBERS of L'il Beginnings Miniature Horses International web-site!
For information on being added to the Small Horse Connect - PLEASE SEE THIS PAGE
---
Get me back to L'il Beginnings Miniature Horses main page please!