Texas
Links below open new windows

= Offers Stud Service
= Member Listing
---
Mini Horse and Shetland Pony Farms and Businesses in Texas
---
...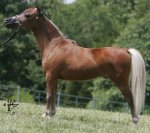 Blueberry Hill Ranch - AMHA/AMHR
email: Al and Lisa Barton - blueberryhillminis@yahoo.com
341 Blueberry Hill, Georgetown, TX 78626 - Phone: 512-763-6200

Blueberry Hill Ranch is a small family/veterinarian owned ranch. Our goal is to breed correct and refined double registered miniatures with good dispositions. Our senior herd sire is WORLD CHAMPION "Im Cinsational Too" - a grandson of Glenns General Patton. Breeding heavily with Boones Little Buckeroo, Double Destiny and Little King Supreme we strive to produce future champions. Come visit our website at www.alpineviewminiatures.com
05/11
---
......

Darro Miniature Horse Farm - AMHA


e-mail - Darwin W. Parker - dwparker1957@comcast.net

7142 Miley Street, Houston, Texas - Phone: 713-635-2090

Our main herd sire is NFC Rowdys Fatal Charm, direct son of the Immortal Rowdy and he is siring awesome refine foals for us. We breed for conformation and with a little added bonus of color in our foals. We are striving for perfection foals in our breeding program with the limited selection of mares and stallions we have. Our motto at the farm is we produce QUALITY FOALS NOT QUANTITIES. We only have a small limited crop of foals each year so our mares will get time off and that way they will produce the greatest quality of foals. Look to us for your next show filly, colt, mare, gelding or stallion. We are a small family owned farm with reasonably price horses that you can afford to buy from and we are a reputable breeder in Texas. Home of NFC Rowdys Fatal Charm (pictured) Web site - www.darrominis.com/
06/05
---
......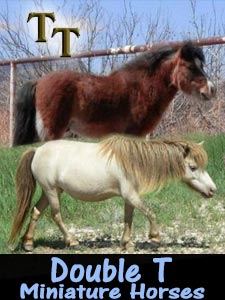 Double T Miniature Horses - AMHA/ICHR


e-mail - Teresa Shackelford - doubletjrt@hotmail.com

Balmorhea/Ft Davis, Texas phone: 432-426-3960

I strive to produce well rounded animals that still hold true to their natural abilities and those abilities that the breed was created for. My Miniature Horses are raised with the idea in mind of keeping them small but also throwing a lot of color and a sweet , good, gentle, and willing attitude into the mixture. I raise them with the idea in mind to produce a great all around equine, be it for a pet, show horse, driving prospect, or just a friend. I specialize in the trick trained Miniature Horse, and do offer training in that department. My primary club is the American Miniature Horse Registry, and my Champagne horses are also double registered in the International Champagne Horse Registry.
Visit Double T Miniatures web site at - http://www.doubletjrt.com/ You can also find me on Facebook type in: doubletminis


09/16
---
---
---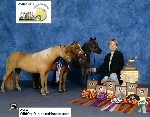 Wild Oak Farm - AMHA/AMHR

e-mail - Jan & Batch Nuckolls - TxLilHorse@aol.com

Hutto, Texas - phone: 512-869-8120

Wild Oak Farm is located in beautiful Central Texas, midway between Dallas/Ft Worth and Houston. We raise, show and sell horses with proven bloodlines and ability, halter & performance prospects. Our mares & stallions represent some of the best bloodlines of the industry. Marks Duffys Affirmed Royalty is a National Top Ten Stallion and a World Champion and World Futurity Champion Producer! Freedom Hill Farms Painted Echo is an AMHR National Champion producer and a proven country pleasure driver himself. We offer a few select foals from both stallions for sale each year, as well as several mares and geldings. Please think of us for your next champion, and stop by to visit! Web site - www.wildoakfarm.com
11/02

= Many thanks to these MEMBERS of Lil Beginnings Miniature Horses International web-site!
For information on being added to the Small Horse Connect - PLEASE SEE THIS PAGE
---
Get me back to Lil Beginnings Miniature Horses main page please!