.
---
Help this site continue to grow in the promotion of Miniature Horses!
Please e-mail us to find out how you can become a member of this site.
~~~~~~~~~~~~~~~~~~~~~~
Please take a banner and place it on your web site!!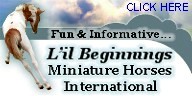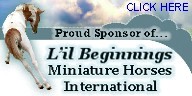 > Right Click to Copy <
Link to - http://www.lilbeginnings.com
.
---
Get me back to L'il Beginnings Miniature Horses main page please!