Miniature Horse and Shetland Pony Farm and Business Directory Members

Please visit Lil Beginnings sponsor's web-sites!
links open new windows
PHOTO ABOVE COURTESY OF SO CHIC MINIATURES -FRANCE & LIZ MCMILLAN
---
United States Farms - Specialty Farms - U.S. Tack stores, carts, supplies and more - Trainers - Canada Farms - Canada Tack Stores - Registries - Web Developers, Graphic Designers - Magazines - Rescues / Therapy
---
Alphabetized quick links
U.S. Miniature Horse and/or Pony Farms
A and B Miniatures - MN
B&H Miniature Horses - AR
Blueberry Hill Ranch - TX
Bowens Ramblin Rose Ranch - GA
Calypso Farm - IL
Canterbury Farms - MS
Checkmate Miniature Horses - GA
Coolest Miniatures - PA
Desert Realm Miniature Horses - CO
Double T Miniature Horses - TX
DRK Miniature Horses - MD
Dusty Lane Miniatures - Mini Horses & Web-Design. WI
Encore Farms - FL
FREE & POPULAR - Mini Horse & Tack Sale Board!
Happy Times Farm - VA
Hidden Hollow Farm - LA
Hidden Timber Ranch - PA
High Cotton Miniatures - TN.
Hilo Farm - MN
Indian Creek Farm Miniature Horses - IN
JD Diamond Acres - ID
Kakos Happy Horses - NC
Limestone Miniatures - TX
Lost Spur Ranch - CA
Lucky Hart Ranch - ND
Magnificent Journey Minis and Shetlands - MT
MiniStuf Miniatures - SC
Misty Meadow Minis and Tack - PA
Mother Natures Miniatures - MO
Mountain Springs Miniatures - WV
Ozark Mountain Miniatures - AR
Pine Ridge Farm - MI
Porterfield Farms - GA
Rainbow's End Farm - TN
Reece Family Miniatures & Training Center - DE
Royale Legends Miniature Horses - NY
SHF Miniature Horses - PA
Squires Montana Miniatures - MT
Sundance Oaks Miniature Horse Farm - FL
T and S Mini Ranch - MS
Tara Stables LC -Virginia
Timberview Miniature Appaloosas - IA
TRICETTA Miniatures - NY
Valhalla Farm Miniatures and Shetlands - MD
Villas Rainbow Minis - TN
Wayward Winds Miniature Horses - MI
WeeOkie Farm - OK
Wild Oak Farm - TX
Windfyre Miniatures - IN
Windy Willow Farm - PA
Falabella Breeders
Pony Breeders
Breeding/Foaling Monitors, Carts, Trailers, Barn/Farm Supplies, Clipper/blade service & MORE!
Allens Pony Express - Miniature Horse, Donkey and Pony Tack!
Armour Companies - Aluminum No-Rust Horse Stalls, Gates and MORE!
Breeder Alert Foaling Monitor - Don't miss your mares foaling!
Hay Pillow Inc. - Mini Hay Pillow designed especially for miniature horses and ponies.
Mini Express Miniature Horse Equipment - We offer a HUGE selection of Miniature Horse Tack and Accessories!
Ozark Canada - Bringing all of your favorites from Ozark Mountain in Canadian prices!
Ozark Mountain Tack - Tack & Supplies for Miniatures, Ponies & Donkeys
Star Lake Farm & Tack - Quality tack shipped worldwide.
Spirit Thunder Miniature Horses & Training Center - ID
Canada Miniature Horse and/or Pony Farms
Birchcliffe Farm Miniature Horses - ON
FREE Mini Horse & Tack Canada!
Hale Farms Miniature Horses - ON
WindSwept Miniature Horses - SK
Ozark Canada - Bringing all of your favorites from Ozark Mountain in Canadian prices!
Other Countries Miniature Horse Breeders
Web Designers, Developers, Graphic Designers, Specializing in the Mini Horse Industry.
Bowens Design - Full service brand recognition for farm and ranch businesses. Offering Web Design - Graphic Design - Photography - Hosting -and Domain names.
Dusty Lane Designs - Specializing in FAST-loading, easy-to-navigate websites for Miniature Horse breeders, breeders of other types of animals, and other small businesses. Reasonable rates with fast turn-around.
Other Sponsor Links of Interest - Mini Horse and Pony Magazines - Auctions
MINIATURE HORSE WORLD - The official AMHA Magazine
THE JOURNAL Magazine -The official ASPC/AMHR Magazine
EUROPA - Europe's first Miniature Horse Magazine

Clubs, Registries, Associations
American Miniature Horses Association - AMHA
American Miniature Horse Registry - American Shetland Pony Club- ASPC/AMHR
World Class Miniature Horse Registry, Inc. - WCMHR
Miniature Horse Clubs - Click Here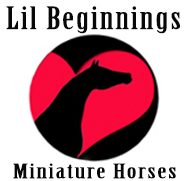 Miniature Horse Rescue and Therapy Horse Links - Your Support is Encouraged!
Pipsqueak Paddocks Miniature Horse Haven - Located in British Columbia
Rainbow Meadows Equine Rescue and Retirement, Inc. - Located in southeast Kansas
Triple H Miniature Horse Rescue - Located in North Dakota
Help this site continue to grow in the promotion of Miniature Horses!
Please
e-mail
us to find out how you can become a member of this site.
Please feel free to add our
banner to your web site!!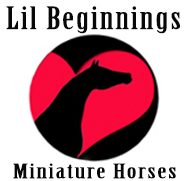 Place mouse over banner
and Right Click to Copy/Save it to your computer
Link banner to - http://www.lilbeginnings.com
Get me back to Lil Beginnings Miniature Horses main page please!