Mississippi
Links below open new windows

= Offers Stud Service
= Member Listing
---
Miniature Horse and Shetland Pony Farm and Ranches in Mississippi
---
...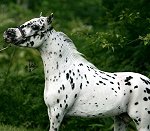 Canterbury Farms - AMHA/ AMHR
Don and Nancy Richey - dnrichey@traceroad.net
Smithville Ms. 38870 Phone: 662 651-4028
Canterbury Farm offers both AMHA and AMHR registered Miniature Horses. Our goal is to produce small, sound, well-balanced horses, possessing correct conformation, good dispositions and athletic ability. We specialize in colorful homozygous tobiano and toveros, as well as other pinto patterns. We also maintain a large herd of appaloosas capable of producing a variety of appaloosa patterns and color combinations. Whether your interest is showing, breeding or recreation, we offer a wide variety of special equine that are versatile, will excel in a variety of disciplines and make a gentle and affectionate companion for individuals of any age or ability. Our bloodlines are some of the finest the industry has to offer and includes many National Grand and World Grand Champion Show horses. Web site - www.canterburyminis.com
7/11
---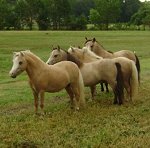 T and S Mini Ranch - AMHA/ AMHR
e-mail - Danny and Jackie Buskirk - tandsminiranch@aol.com
20185 McAllister Rd., Aberdeen, MS – phone: 662-369-3549
The T and S Mini Ranch is a family owned and operated miniature horse ranch, located in northern MS near Aberdeen. We offer some of the very best bloodlines in the industry. Our herd sires are:
High Jinks, a 26.5" black pinto (grandson of well-known stallions, Stonehedge Painted Feather and Vermilyea Farms Renegade)
Canterbury Golden Phoenix, bald faced golden palomino, (son of Vermilyea Farms Stylish Buckeroo and grandson of Bond A Toy 4U-C) and last but not least...
B & BL Dealers Second Edition, 27" black and white (son of Brewers Major Dealer and grandson of Brewers Orion Major).
We are dedicated to producing quality show horses with outstanding color, conformation, personality and action at reasonable prices. To see what we have to offer for your next show horse, herd sire, broodmare, or simply, a mini just to love, phone, visit, or check out our website at www.tandsminiranch.com.
10/04
---

= Many thanks to these MEMBERS of L'il Beginnings Miniature Horses International web-site!
For information on being added to the Small Horse Connect - PLEASE SEE THIS PAGE
---
Get me back to L'il Beginnings Miniature Horses main page please!