Miniature Horse and Shetland Pony Tack Stores in the U.S.
Mini Horse Equipment & Supplies
Links below open new windows
Most of these listings offer catalogs / magazines

= Member Listing
---
>>> Miniature Horse and Shetland Pony Tack Stores in the United States who carry equipment and supplies for your small horses. <<<
Please click here for Miniature Horse and Pony tack and supply stores in Canada.
---
---
....

Mini Express Miniature Horse Equipment
e-mail - Diane - miniexp@windstream.net
P.O. Box 1193 Citra, Florida 32113 Phone: 352-595-2410
Mini Express has been serving the Miniature Horse Community for over 20 years, offering a wide range of products from harnesses, halters, bits, books, blankets, sweats and show equipment. The majority of our products are made by our sewers & leather people in the U.S.A. Enjoy our new web site. Catalog available soon. web site - www.miniexpress.com
11/10

---

Ozark Mountain Miniatures
Equine Tack & Supply for Miniatures, Ponies & Donkeys
e-mail - ozarkmtn@mtnhome.com
1226 Buford Cutoff, Gassville, AR 72635 - (888) 775-6446
OZARK MOUNTAIN MINIATURES is MINITACK.COM. We have anything and everything for your mini's and ponies. We carry a complete line ranging from BKM Show Halters to blankets/sheets to teeth floats and gifts. Our products are first quality and made in the USA. We are proud of our great service, extensive selection and excellent prices - the best you will find! Please visit our web site and make sure to check out the specials and sales. You can also call us 24 hours a day for a free copy of our 55 page color catalog (888-775-6446). We look forward to hearing from you.
02/01
---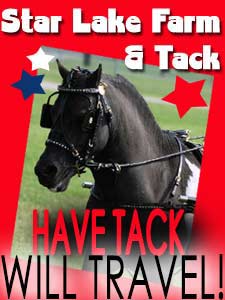 Star Lake Farm & Tack
Miniature Horse Tack Store
e-mail - Cathy Waxler e-mail - starlakefarm@starlakefarm.com
Route 18, PO Box 276 - Atlasburg, PA 15004-0276
phone: 724-255-8583
Star Lake Farm & Tack caries a complete line of tack for the Miniature horse and pony. Please be sure to visit the Star Lake Farm & Tack web site at - www.starlakefarm.com/ for quality tack at affordable prices! Forign tack companies, please contact us for special orders!
10/03
---

= Many thanks to these MEMBERS of Lil Beginnings Miniature Horses International web-site!
For information on being added to the Small Horse Connect - PLEASE SEE THIS PAGE
---
Get me back to Lil Beginnings Miniature Horses main page please!