~ Equipment & Supplies - U.S. ~
Links below open new windows
Most of these listings offer catalogs / magazines

= Member Listing
---
Please click here for Tack & Supplies in Canada & U.K!.
>>> CLICK HERE to PAGE 2 of TACK Listings <<<
---
---
....


ASPC/AMHR Authentic Store
e-mail - Lisa Borg-Caldwell - Lisa@minitack.com
Gassville, Arkansas - phone: 888-775-6446 - fax: 870-435-2231
ASPC/AMHR in partnership with Ozark Mountain Miniature Tack/MiniTack.com is proud to announce the opening of their online "logo" store. The store carries a large assortment of "people" clothing, horse clothing & accessories, videos and gift items. The majority of the items include an embroidered or screenprinted emblem plus you can add your own personalization. We will continue to add new items and new emblems throughout this year. The store is a part of www.minitack.com and utilizes the same shopping cart - you can buy from both stores at one time - with only one shipping charge. We look forward to visiting our new site.
02/04
---
....
---


Double TT Ranch Miniature Horses & Tack
e-mail - Tracy & Terri Smith -
TDDOUBLETTRANCH@aol.com
165 Mt. Creek road, Bowdon, Ga. 30108
We carry Amish made miniature horse halters, rope lead lines in assorted colors, harness pad sets, bucket holders, hoof picks, sweat scrapers, a full line of harness and harness accessories as well as girths, winter blankets, harness bell sets, harness bags, halter muzzles, nylon lead lines, Smooth Ez body suits, hoods and tailbags, hay bags, halters with leather overlay, breakaway halters, show products, shipping boots, leg wraps, American made mini horse saddles - all leather, hand tooling and rounded skirts to better fit the mini horse PLUS a large selection of western, and English mini horse saddles.- http://www.ttminihorse.com
10/12
---

Horses4MiniThings
e-mail - floj@stny.rr.com or pjohnson19@stny.rr.com

Ashville, NY 14710 Phone: 1-716-763-1491
A Friendly Family business since 2008, we continue to offer QUALITY Horse, Miniature Horse, Pony & Pet products at an affordable price with fast convenient & secure online credit card and paypal processing.
New products will be added as we continue to expand to meet your needs. Check out out Sales! Web Site -
www.horses4minithings.com/
07/12
---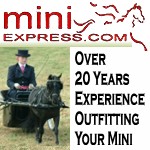 Mini Express Miniature Horse Equipment
e-mail - Diane - miniexp@windstream.net
P.O. Box 1193 Citra, Florida 32113 Phone: 352-595-2410
Mini Express has been serving the Miniature Horse Community for over 20 years, offering a wide range of products from harnesses, halters, bits, books, blankets, sweats and show equipment. The majority of our products are made by our sewers & leather people in the U.S.A. Enjoy our new web site. Catalog available soon. web site - www.miniexpress.com
11/10
---
>>> CLICK HERE to PAGE 2 of TACK Listings <<<
---
Message to Tack Vendors
The Little Horse Barn is now offering a "Vendor" account. Sell your tack at reasonable rates on the popular LB Last Chance Auction. See this LINK for info.
---

= Many thanks to these MEMBERS of L'il Beginnings Miniature Horses International web-site!
For information on being added to the Small Horse Connect - PLEASE SEE THIS PAGE
---
Get me back to L'il Beginnings Miniature Horses main page please!