Lil Beginnings Miniature Horses - Meet the Team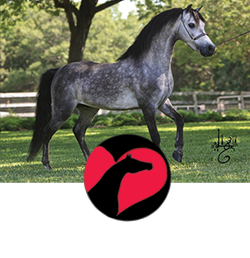 PHOTO ABOVE COURTESY OF: ERL MINIATURE HORSES -Texas & LIZ MCMILLAN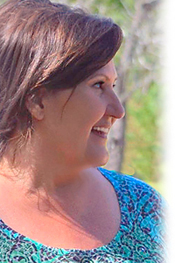 Welcome to Lil Beginnings Miniature Horse and Pony
...a little about me:
My husband and I live in the geographical center of the state of Georgia. I have one wonderful daughter and 2 of the best Grandchildren you could ask for. I've had horses most of my life and am a animal lover. Coming from the big horse world, beginning in 1999 as a new member of the 2 major Miniature Horse registries I began my involvement in this equine venue by way of my Web and graphic design business. I have worked with thousands of farms the world over providing promotion and advertising via Website design and magazine ad. design as well as being a major hosting provider for the equine industry.

I started my graphic design business, Bowens Design in late 2002.. after working here as a technical assistant with Mary Lou for many years, buying this business when she retired was a dream come true.
I love being able to help people learn about and advertise their horses!
Lil Beginnings has always been unique in that it offers many FREE automated options for you to advertise and I will continue to offer it that way.
I hope your visit to Lil Beginnings is an enjoyable one. I am here to help you so do not hesitate to drop me a email if you need help or have a suggestion.

It takes a dedicated team to run this business. The LBI Team, all long time successful members of the Miniature Horse community, put their experience to work every day... from helping a person dreaming about their first mini to helping someone expecting their first foal, we welcome you, we share your joy, we cry with you, we know all the long time breeders, welcome the new farms, enjoy seeing your foals and your sales and eventually we help advertise dispersals.
We've all been there and we're here to help you. -Debby J. Bowen
Meet A Few Of The Lil Beginnings "Miniature Horse Talk" Forums and Lil Beginnings Sales Boards Moderation Team!
Our volunteers are who have shaped these forums into the #1 place for mini horse & pony information on the Internet! We are proud to say they are very dedicated members who are up to the minute involved with current trends in the industry.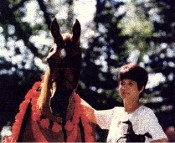 LBI Forums Moderating Team Leader
* Global Monitor
Carol Albritton - Forum name - Vertical Limit
From as far back as I can remember I always said I would grow up training horses. I never thought about anything else. At the age of eight, I started riding and showing Saddlebreds and my family also had two palomino Quarter Horses that I also showed. Then one day when I was twelve I met my first Arabian horse. That was it for me, I knew it my calling. There is nothing I would rather be doing than working with, showing and marketing Arabian horses and being at the shows with my "horse show family" of thirty plus years. To be able to travel with the horses and meet people from all over the World is as good as it gets.
My husband and I bought our first miniature horse for our three year old daughter in 1984 from Komoko Farms. We ventured into a very small breeding operation but have since stopped breeding because of my other big horse obligations.
I am a long time member of the Lil Beginnings Forum and enjoy helping anyone I can. Being a Forum monitor for a good while now, the people who have contacted me know I am always there when they need me, no matter what the reason. And for those of you that I have never had the pleasure of talking to, please feel free to contact me at any time. I look forward to my continued work on the Forum.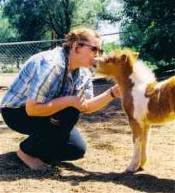 LB Entertainment Coordinator
LB Contests Artist and Administrator
Annual Forum Secret Santa
Robin Olmstead ~ Forum name REO
I was born loving horses! Having been raised around my family's 1500 acre Ranch in Southern California, I got to take over the last of the cowponies as my own. Horses are all I ever wanted to have and do. I rode on the beach, in parades, in Playdays growing up. Even working at Orangefield House in Ireland, caring for the Hunters. I had a very horsie life, but nothing was, or has been as fulfilling as having and raising the Miniature Horses!

We started in Minis in 1993. They are the light of my life! My interests are horses (Of course!) and talking to my MANY friends on line. All of which I've met through the L'il Beginnings forum! I also enjoy making websites for people, reading and crafts.

I can't tell you how much the forum and the forum family means to me. I get a lot of pleasure trying to give back by keeping the LB foal count, the Secret Santa gift exchange, and helping with anything needed. Being a part of this awesome site and family is a huge part of my life and one I could not live without.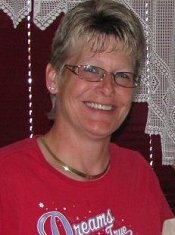 * LBI Assistant
*LB Forum moderator
Mona Stone ~ Forum name Mona
From Ontario, Canada. I thoroughly enjoyed raising Miniature Horses for 16 years previous to my selling out in 2010.
My new found interest and current form of stress relief and enjoyment is riding horses. We own gaited horses and enjoy leisurely rides as often as time and weather permits. I also very much LOVE dogs, and and will always be with one or more! Our current canine companions include our Boxer, "Abby", and our Chinese Crested/Chihuahua mix, "Monkey".

I am married to my wonderful husband Chris, and together, we have 2 children and 4 grandchildren.

WELCOME to Lil Beginnings the most complete, and most popular Miniature Horse Site on the Internet!!
Our Miniature Horse Forum is
A place to ask anything & everything about The Miniature Horse from breeding, birth, care, feeding and maintenance... to first show jitters.
Are you interested in buying your first mini? Have questions about the main Miniature Horse and Shetland pony registries? You've come to the right place.
A place for those with experience to help foster in those just getting started and help them get a start on the right foot.
A place for experienced owners and breeders to keep up on current trends......read more

While you are there check out our Specialty Forums:


Miniature Horse Pregnancy, Foaling and Mare Stare Forum
Driving Miniature Horses Forum
Pony Talk Forum
The Back Porch & The Back Yard Forums - gathering places for conversation about almost anything, horse related or not.
Welcome crafters! talk about and share photos of all your favorite projects on the Crafters forum.
and last but not least The Mane Course ♥ horse lovers ♥ cooking forums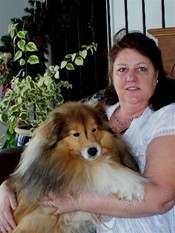 Lil Beginnings Founder Est. 1997
LB's Founder Mary Lou with "Chase" - Owning Miniature Horses since 1989, I started the L'il Beginnings web site in 1997 as a small meeting place for Miniature Horse enthusiasts.. From there, with the help of many visitors suggestions, the web site has GROWN to what it is today. I also feel so truly blessed to have such wonderful people assist me (many listed on this page) through the years..

After managing this website for 15 successful years, my time has come to pass the ownership of this website to Debby Bowen.. Debby and I have worked together for many years and I could not have found a more honest, respectable and talented person to take the reins in managing this website for Miniature horse owners, breeders and enthusiasts. Although still very much an owner and admirer of the Miniature horse to this day, running this website will be a forever highlight of my life..

Thank you to all the members, visitors and special people that made this website such a pleasure.. Mary Lou

Thank you Mary Lou!!! In 2005 I started my working partnership with Lil Beginnings founder Mary Lou.
I hjI am so grateful to Mary Lou for allowing me to work for her all those years and am honored to have been asked to carry on her business vision here. - Debby
We give back to our members by keeping this site updated to provide ease of use for your content by constant script updates and paid technical assistance. We not only provide FREE automated sales and transportation boards, we advertise in all the related print publications as well as make extensive use of paid promotion on social media and search engine optimization.
Click here to see what our community offers for you.strong>
Lil Beginnings - The Original Small Horse Social Network.
We ARE the ORIGINAL and MOST POPULAR Miniature Horse and Pony web site in the WORLD!
Thank you for visiting!